BCS is operated by its Society which is made up of members. All individuals must meet the eligibility requirements of a member as outlined in BCS' Membership policy to become a member. Membership carries with it the opportunity to vote at society meetings, nominate other members to serve on the Board of Directors, or participate themselves on the Board of Directors or other school committees.
There are two annual Membership Meetings – one in the spring and one in the fall. At these meetings, the various committees give reports on their current projects. Everyone is welcome at these meetings and ther
e is an opportunity to respond to the presentations. Members have the opportunity to approve agenda items such as the Financial Statements, the new Board members, and reports when necessary.
Below is the Governance model of BCS: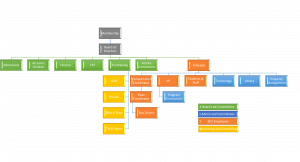 Board of Directors:
BCS is governed by a Board of Directors which is elected by the membership of the school's society. The members of the board meet most months and directly oversee the work of the Finance Committee, the Fundraising Committee, and the Principal.
The following are the members of the Board of Directors for the 2021-2022 school year:
Dan de Vries, President, Admissions Committee Liaison
Jantina Ellens, Vice President, All God's Children Liaison
Amy Hall, Secretary, Communications
Brian Osinga, Treasurer (Finance, Contract Partnership liaison)
Brian deJong, Facility/Property Consultants Coordinator
Cheryl Karsten, Fundraising Committee and Thrift Shop Liaison
Sarah Malda, Fundraising Committee
Darren Kloet, Finance Committee
Committees:
BCS has committees which support the work of both the Board of Directors (BOD) and the Administration. The standing committees are the Admissions Committee, the All God's Children Committee, the Contract Partnership Committee, Finance Committee, and the Fundraising Committee. There are also adhoc committees which exist for a limited time and deal with an assigned topic/project. Ad hoc committees provide the Board and administration with advice or suggestions on the direction to take.
For more information about the role of each committee and how to be involved on a committee, please contact the school office.